Published: Monday, January 28, 2019 02:00 PM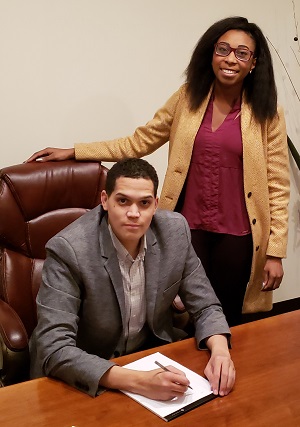 Senator Robert Peters, newly appointed to represent the 13th State Senate District (right) and Chief of Staff Ibie Hart (left).
Meet your new Senator: Robert Peters
Hi! I'm Robert Peters, and I am excited and honored to represent you in Springfield as the Senator for the 13th Senate District!
I care about public service because of the many events in my life that have left a profound impact on me and the people I care about.
It was in high school, when I was living with my father and one of my four sisters, that I first became interested in public service. My dad was an amazing civil rights and criminal defense attorney. He'd always been my hero, but now it was for more than just being my dad — he was a champion for justice. He worked tirelessly to free those who had been wrongly convicted from life sentences. He even argued a case before the U.S. Supreme Court on behalf of individuals who had their personal property unlawfully seized by police. The case that I always draw inspiration from is when he worked with a community coalition to sue the police for harassing people at Stateway Gardens during a community basketball game. This case won dignity for the working folks at Stateway and, along with my biological mother's struggles with addiction, inspired me to fight for criminal justice reform.
After college in the midst of the great recession, I, like many, had difficulty finding work. My first job was as a community and political organizer, but early on in my career, I lost both of my parents within a year and a half each other. I remember being unemployed and grieving. I remember facing extreme difficulty paying property taxes with the little income I had. I remember not being able to pay for my medical bills due to a pre-existing condition and having the insurance company reject me.
I relied on the welfare system to get by, and saw how that system provided very little for me in a time of need.
I had to cope with losing my parents to disease, and I had to fight hard to keep myself afloat in an increasingly tough world. Those experiences helped me focus in on my personal and professional goals, and it is because of those experiences that I have such a deep commitment to working on behalf of others. I know from experience that sometimes people face hardships due to factors that are outside of their control, and that there's no amount of "picking yourself up by your bootstraps" that can fix that. Success can be achieved with support from the community, and that's why I will fight my hardest to guarantee that all communities, throughout the 13th district and the entire state of Illinois, have the necessary resources to provide that support so that any kid just like me can have a chance to succeed.
Later in my career, I organized with The People's Lobby along with ONE Northside and Cook County President Toni Preckwinkle to help increase the county's minimum wage to $13 an hour, which gave thousands of workers a pay increase across suburban Cook County. As Political Director with Reclaim Chicago, I worked with national organizations to draw attention to one of the most important criminal justice reform races in the country. After State's Attorney Kim Foxx's victory, I worked with The People's Lobby, the Chicago Community Bond Fund and President Preckwinkle to pressure Chief Judge Tim Evans to issue an order in July 2017, which required all Cook County judges to set affordable bail amounts for all defendants. This order has led to a 30% reduction in the population of Cook County Jail so far.
Throughout my career, I have successfully advocated for policy initiatives from criminal justice reform to helping working families pay for the things they need. I intend to keep on fighting with every ounce of my energy to provide more criminal justice reform, to ensure that Illinois has a fully funded public school system, and to finally deliver a fair tax system that takes the burden off of working class homes.
I care so much about this work, I care so much about the people in my community, and I am committed to being the best public servant I can be.
Some Fun Facts about Senator Robert Peters
If you could have dinner with any person, living or dead, who would you choose?
"My dad, because he passed away in 2011 from cancer. The work he did as a civil rights lawyer inspired me to do what I do today. It would be really great to know what he thinks about me becoming a Senator."
If you could only ever listen to one album for the rest of your life, which would you choose?
"You Are Not Alone by Mavis Staples."
What is your spirit animal, and why?
"A dolphin, because they move as a pack."
What is a song you're afraid to admit you actually enjoy?
"Virtual Insanity by Jamiroquai"
What is your favorite holiday and why?
"Christmas, because I get to spend time with the people I love."
What line from the theme song of "The Fresh Prince of Bel-Air describes you best?
"'On the playground is where I spent most of my days!' Shout out to the Ray School Warriors!"
Meet the new Chief of Staff: Ibie Hart
Hi, I'm Ibie Hart, and I'm thrilled to be able to serve you as the Chief of Staff for Senator Peters!
Throughout my life, I have focused on the empowerment of working class families and students. In my first year of law school, I became an education reform advocate and founded Stand Up For Each Other, Chicago! (SUFEO), which is an organization I created to address the school to prison pipeline and support student rights in the school discipline process. Meanwhile, I worked with State Senator Kimberly Lightford to support Senate Bill 100 as well as amended the Illinois school code by writing and passing Senate Bill 565, which implemented social emotional screenings into health examinations.
I am a Civitas Child Law Fellow J.D. and M.P.P. Graduate from the Loyola University Chicago School of Law. After law school, I worked for Common Cause as their state outreach and engagement manager. In that role, I empowered ordinary people to engage with their government in meaningful ways such as canvassing, phone banking, registering voters, poll watching and more. I also chaired the Just Democracy money in politics coalition and worked on an initiative for campaign finance reform in Chicago.
I look forward to working in my community to bring radical transparency through ward listening sessions and a district office that prioritizes the voices of working families in their legislative agenda. When I'm not working, I'm painting a canvass, leading a church group, or dancing whenever music is near!
Some Fun Facts about Ibie Hart
If you could have dinner with any person, living or dead, who would you choose?
"Maya Angelou, because her versatility inspires me — at various points in her life she was a mom, dancer, activist, actress, writer, director, etc. She showed that the possibilities for Black women are boundless."
What is your guilty pleasure TV show?
"Being Mary Jane, because I can relate to several aspects of her life."
What is your spirit animal, and why?
"A lion, because they are fierce but also love on their community."
What is a song you're afraid to admit you actually enjoy?
"Thank U, Next by Ariana Grande"
What is your favorite holiday and why?
"Thanksgiving, because I love how gratitude is at the center of the season.."
What line from the theme song of "The Fresh Prince of Bel-Air describes you best?
"'Shootin' some b-ball outside of the school!' I played and coached basketball for many years before law school."
District Office Information
Senator Peters' District Office is located at 1509 E. 53rd Street, 2nd Floor in Chicago, IL, 60615. It can be reached by phone at (773) 363 - 1996, by email at This email address is being protected from spambots. You need JavaScript enabled to view it., or by clicking the "Contact Us" tab at SenatorRobertPeters.com.
The District office will also offer open office hours hours every Friday from 10 a.m. — 1 p.m. We would love to meet you and learn how we can serve you best!