Published: Thursday, February 07, 2019 12:48 PM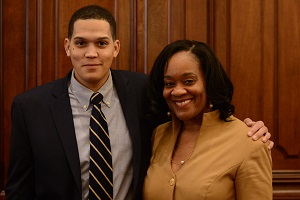 SPRINGFIELD – State Senator Robert Peters (D-Chicago) voted Thursday to increase the minimum wage to $15 per hour by 2025.
"Wages have remained unchanged for years despite worker productivity being at an all-time high," Peters said. "It has been too long since the working class people of our state have received just compensation for the labor they provide. I'd like to thank Senate Majority Leader Kimberly Lightford for her years of hard work on this extremely important issue, and I'm honored to have voted for the bill that finally let her achieve her goal."
The legislation is Senate Bill 1, which would gradually increase the minimum wage in steps from its current level of $8.25 per hour to $15 per hour by Jan 1, 2025.
Peters also recognized the hard work of activists and organizers who fought for an increase.
"This would never have been possible without the efforts of great organizations like the Fight for Fifteen movement," Peters said. "I want to personally thank them for their diligent work in organization and outreach that helped to finally deliver the relief that struggling working class families have desperately needed for the past 30 or 40 years."
The legislation will now be sent to the House of Representatives for consideration.
Category: Press Releases