Published: Thursday, April 04, 2019 02:27 PM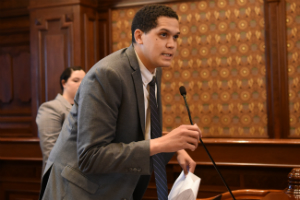 SPRINGFIELD – Seeking career education is a path that requires fees, tuition and tools, but eligible youth could have those associated costs lessened under a plan proposed by State Senator Robert Peters (D-Chicago).
Senate Bill 1525 requires the Department of Children and Family Services to provide a stipend covering the upfront costs incurred upon entering an apprenticeship program. New apprentices often are on the hook for fees, tuition, and clothing and tools specific to their chosen occupation. The stipend would be provided to youth who are currently a responsibility of DCFS, who aged out of care upon reaching the age of 18, or who were formerly in DCFS and were adopted or placed in guardianship.
"A lot of folks find themselves unable to pay for the upfront cost of starting an apprenticeship, which prevents them from entering into that field and forces them to find work that might not pay as well or have as many benefits," Peters said. "Life in youth care is hard, and we shouldn't make it harder for the kids aging out of youth care by keeping in place another systemic barrier."
The bill also requires DCFS to develop a plan to increase awareness of the program. It was approved by the Senate with unanimous bipartisan support and will be sent to the House of Representatives for consideration.
Category: Press Releases