Published: Wednesday, April 10, 2019 06:17 PM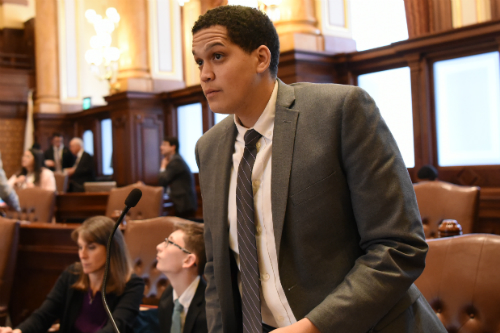 SPRINGFIELD – To make travel safer for the cyclists and pedestrians, drivers' education courses would focus on how to share the roadway under new legislation sponsored by State Senator Robert Peters.
"Many drivers' education courses usually only teach future drivers how to stay safe around other drivers but neglect to include information about other people they might encounter while driving, who have just as much of a right to the road as anyone," said Peters, a Chicago Democrat who represents areas of Jackson Park and Downtown Chicago where the number of accidents involving bicyclists and pedestrians is higher than average.
"If we move to increase driver awareness of bicyclists and pedestrians, that will in turn decrease the number of accidents these folks are involved in, making the roads safer for everyone," Peters said.
Senate Bill 1642 requires drivers' education courses to include instructions on how to safely pass bicyclists and pedestrians while driving, how to safely exit a vehicle without endangering bicyclists and pedestrians, and how to navigate through intersections shared with bicyclists and pedestrians. This new information would first appear in the 2020 – 2021 curriculum.
The bill passed the Senate by a vote of 53 – 2. It will now be sent to the House of Representatives for consideration.
Category: Press Releases