Published: Tuesday, April 30, 2019 05:02 PM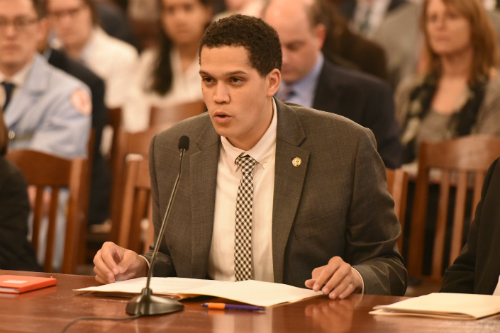 SPRINGFIELD – A bill sponsored by State Senator Robert Peters (D-Chicago) would ban state agencies or units of local government from conducting business with privately owned civil detention centers.
The bill is an initiative of the Illinois Coalition for Immigrant and Refugee rights in response to a March vote by the Board of Trustees in Dwight approving plans to build a 1,200 bed privately owned detention facility. Once built, the Immigration and Customs Enforcement Agency could potentially contract with this facility. The bill would prevent this from happening.
"Privately owned detention centers are run with a profit motive, which creates an incentive for people to become bad actors as a way to cut costs and save money at the expense of living conditions," Peters said. "These cruel institutions have no place in our modern society."
A civil detention center is an institution used to detain people for reasons other than having been charged with or convicted of a crime, including immigration detention centers, juvenile detention centers and mental health facilities. They differ from criminal detention centers in that they are neither a jail nor a prison.
Current statute already places a ban on private criminal detention centers, but fails to make mention of civil detention centers. House Bill 2040 would extend the ban to include civil detention centers as well, effectively banning all forms of private detention centers within Illinois.
The measure passed the Senate Executive Committee and will proceed to the full Senate for consideration.
Category: Press Releases