Published: Wednesday, March 20, 2019 04:32 PM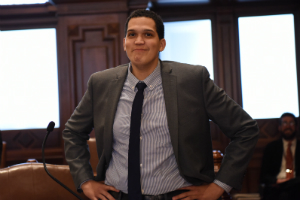 SPRINGFIELD – Children in the state's foster care system will be given an opportunity to have their voices heard about issues within the system that affect them under a measure sponsored by State Senator Robert Peters (D-Chicago).
"No one knows the foster care system better than the foster kids themselves," Peters said. "It's much easier to learn the areas where the system is lacking if we can hear directly from the children in the program."
Senate Bill 1743 mandates the Department of Children and Family Services to develop, process and administer a standardized survey to gather feedback from youth who are currently aging out or who have recently aged out of the foster care system. The aim is to help DCFS and supporting agencies identify deficiencies in the system by learning about them from the people directly affected by them, leading to changes in policy to help address these issues.
The bill passed the Senate with unanimous support. It was the first bill sponsored by Peters to pass through the Senate and on to the House of Representatives since he joined the Senate in January.
"It's an honor to have passed my first bill," Peters said. "I'm confident that this is the start of a productive year in the Senate."
Category: Press Releases