Published: Tuesday, March 19, 2019 02:37 PM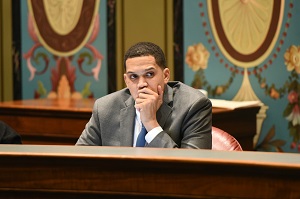 SPRINGFIELD – A new bill sponsored by State Senator Robert Peters (D-Chicago) would help improve the safety of bicyclists and pedestrians.
Senate Bill 1642 requires drivers' education courses to include instruction on bicycle and pedestrian safety beginning in the 2020-21 school year. The curriculum would include instructions on how to safely pass bicyclists and pedestrians while driving, how to safely exit a vehicle without endangering bicyclists and pedestrians and how to navigate through intersections shared with bicyclists and pedestrians.
"I represent areas of Jackson Park and of Downtown Chicago, which have a higher than average number of accidents involving pedestrians and bicyclists, have just as much of a right to the road as drivers do," Peters said. "However, many drivers' education courses only prepare drivers for how to safely be around other drivers.
"This poses a huge threat to pedestrians and bicyclists," Peters said. "By including these new safety instructions in drivers' education courses, we can reduce the risk of injury that bicyclists and pedestrians face on a daily basis."
The measure passed through the Senate Education Committee unanimously and moves to the full Senate for consideration.
Category: Press Releases